Guide:
The recently popular robotic vacuum cleaners have become a favorite new household appliance for many consumers. These devices can sweep and clean, earning users more free time and making indoor floor cleaning faster.
The thought of coming home from work to a pile of household chores can be daunting for many people. With the rapid popularity of smart homes, many easy-to-use household appliances can help solve many domestic problems. Recently, the popular robotic vacuum cleaner has become a favorite new household appliance for many consumers. These devices can sweep and clean, earning users more free time and making indoor floor cleaning faster. After evaluating the highly reputable Proscenic-880T intelligent robotic vacuum cleaner at the time, let's take a look at this new product.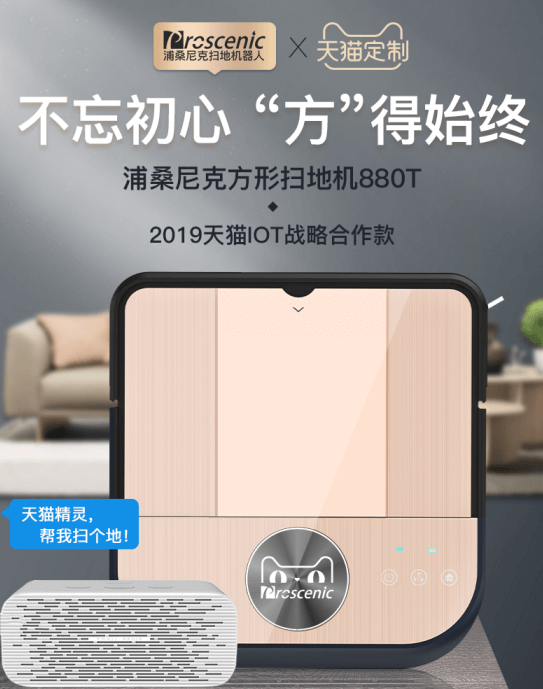 Robotic Vacuum Cleaners
Appearance In terms of appearance, we mostly focus on the height because the lower the robotic vacuum cleaner, the more it can clean hard-to-reach areas such as under beds, sofas, and tables, achieving efficient cleaning.
The Proscenic-880T intelligent robotic vacuum cleaner from Proscenic has a high color value and can be considered the most aesthetically pleasing among all robotic vacuum cleaners. It uses a luxurious gold color, combining fashion with technology, incorporating both intelligent technology and trendy elements, making it suitable for various home styles.
Performance Evaluation
1.High-end planning system achieves intelligent cleaning.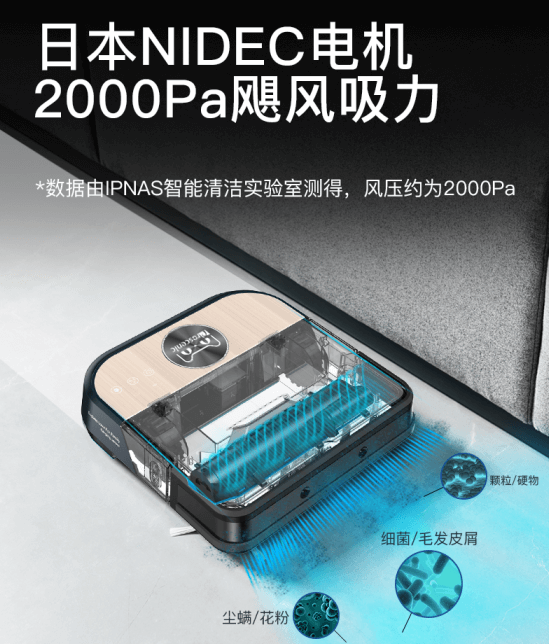 Robotic Vacuum Cleaners - Suction Power
The Proscenic-880T robotic vacuum cleaner features a four-core ZK-SOC chip and the latest positioning system - a wireless carrier indoor positioning system and a wireless probe. It breaks through size limitations and achieves full-house positioning. This new wireless carrier positioning system has strong anti-interference ability and high positioning accuracy. Even in cluttered home environments, it can still achieve precise navigation and positioning. Combined with the HSIR+ multi-point matrix intelligent mapping system and bionic algorithm, it achieves a 360-degree scanning mapping without dead angles in real-time and then formulates a reasonable planning scheme. The Proscenic-880T will first clean the center area of each partition in an arc shape, followed by cleaning the boundary area of the wall after completion. At this time, its left and right sides will play a very important role in cleaning every corner that needs to be executed.
2.One suction equals cleanliness, cleaning without compromise.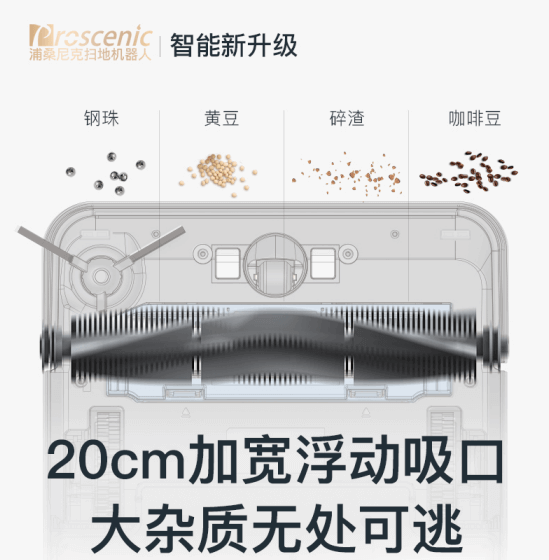 Robotic Vacuum Cleaners - Big Suction Mouth
Suction power is an important aspect of testing cleaning ability, and it's closely related to the structural design and motor arrangement of robotic vacuum cleaners. The 2019 Proscenic-880T robotic vacuum cleaner not only uses a Japanese imported motor but also increases the suction mouth to 20 centimeters, providing a powerful suction of 2000 Pa, easily sucking in hair/dust, let alone chocolate rainbow beans.
The Proscenic-880T also comes with a regular V-shaped floating electric roller brush that can complete up-and-down floating cleaning close to the ground, greatly improving the floor's dust-cleaning ability. There's no need to worry even if there's more hair on the ground. The variable frequency suction mouth can switch for treatment. The vacuum suction mouth can suck away all kinds of hair and dust at once, truly achieving vacuuming in the real sense.
3.Continuously providing water evenly for efficient mopping and a cleaner result.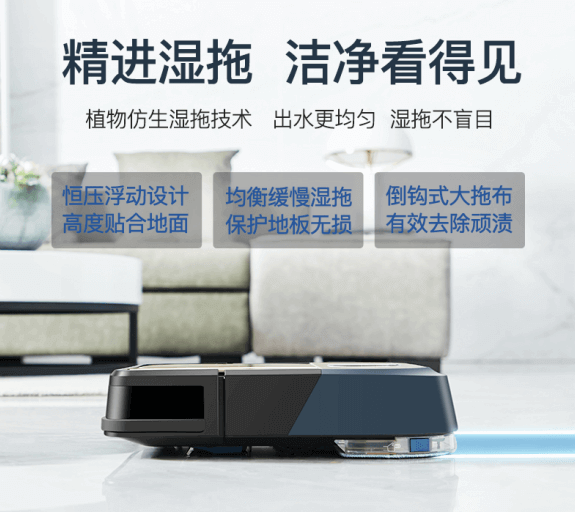 Robotic Vacuum Cleaners - Wet Mopping
If you're a loyal user of robotic vacuum cleaners, you'll surely care about the cleaning system equipped on your device. After all, as a two-in-one robotic vacuum cleaner, excellent wet mopping is also crucial.
In terms of water tank equipment, the Proscenic Proscenic-880T uses a 220ml high-capacity water tank that can provide continuous water supply for up to 90 minutes. Even if it can handle wet mopping in an area of 150 square meters, there's no pressure. The water tank can finely control the amount of water seepage, even completing the seepage to prevent wooden floors from being soaked due to excess water; large-area fabrics adhere highly to the ground, so the water tank can deeply clean stains, absorb dust, leave no marks, and make the floor dragged by the water tank look brighter and cleaner than those manually mopped.
4.Self-service and intelligent automatic recharge.
Robotic Vacuum Cleaners - Automatic Recharge
In addition to its deep cleaning capabilities, the Proscenic Proscenic-880T also features a self-service function of automatic recharge. When the battery level drops below 20%, it quickly calculates the quickest way to return to the charging station based on the corresponding data from its positioning system, and then charges itself at the charging station. After fully charged, it returns to the breakpoint to continue scanning, reducing repeated scanning and missed areas, and improving operating efficiency.
Moreover, its built-in high-capacity power lithium battery can support daily cleaning for large households.
In conclusion, the functions and technological advancements of robotic vacuum cleaners are developing rapidly. I believe that as people's living standards gradually improve, their consumption concepts will also change. People will increasingly prefer the idea of using robotic vacuum cleaners to replace manual labor. Of course, you still need to master the correct selection and use of robotic vacuum cleaners.